IN ONE OF THE LARGEST CITIES ON EARTH, GROWTH IN AND AROUND GREATER TOKYO IS A GIVEN. BUT IN THIS GLOBAL CITY, IT'S NOT JUST THE NET POPULATION INFLOW THAT IS DRIVING HEIGHTENED DEMAND FROM WITHIN THE LOGISTICS INDUSTRY.
Tokyo remains the logistics hub for Japan, but structural changes across the industry have played a key role in changing the sector.
Occupiers are moving from old, obsolete logistics centres and consolidating into modernised efficient facilities needed by Japan's leading retailers, who are operating in an increasingly competitive environment.
In part, this is because the strong growth in e-commerce has also increased customer expectations. To keep up, many companies now provide same day delivery, an offering that requires increased labour and well-located facilities to meet this promise to the end user.
So how is Goodman helping? We know our customers need large, modern, efficiently designed and cost-effective fulfilment centres, but they also require sites that are attractive to employees. The country's shortage of workers means that in Japan, today's leading employers are not just increasingly shrewd in evaluating locations, specifications and rents, but they place strong emphasis on factors that impact their ability to attract and retain workers. The result? Leading companies here not only require locations which are attractive and convenient for existing worker populations, but they also want superb amenities and compelling design onsite to help retain them.
All of these were important considerations for Skechers, which is directly leasing 30,000 sqm in Stage 1 of the multistage Goodman Business Park at Chiba Newtown. Stage 1 is a 117,000 sqm multi-customer development completed in March 2016.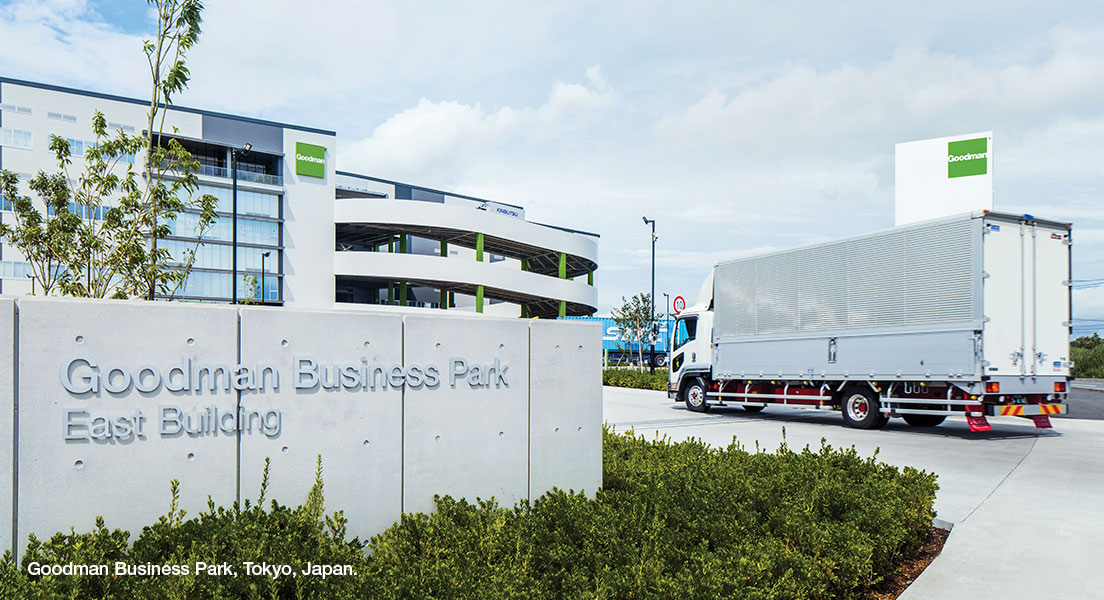 The facility is now the primary Japanese logistics centre for this $3 billion leader in performance and lifestyle footwear. Goodman Business Park provides the connectivity, amenities and premium facilities, with expansion potential that companies like Skechers, which operates in more than 160 countries, gravitate towards.
The site is located in an inland, high-population growth corridor (serviced by multiple toll-free highways, bus routes and close to planned Expressway expansions). Onsite, sleek building and design, highly useable space, and planned amenities including retail, restaurants, open spaces and community facilities are attractive to companies wanting to be employers of choice.