SYDNEY MAY BE ONE OF THE WORLD'S GREAT CITIES, BUT FOR GOODMAN, IT'S ALSO JUST ONE OF THE CITIES WE CALL HOME.
Sydney was the first market we invested in, via a purchase in South Sydney over 20 years ago. Today, we own 46 properties in the city's prime industrial precinct, an area which extends from the airport at Mascot to the fringe of the CBD.
Between our industrial estates, warehouses and business parks, our South Sydney property portfolio provides more than 1.4 million sqm of space for around 330 customers, 65% of whom are in the transport, logistics and consumer sectors.
South Sydney has always been a prized industrial precinct, thanks to its easy access to Kingsford Smith Airport and Sydney's expanding port, and a large population base. Today, it's more valuable than ever.
Infrastructure and transport upgrades like the WestConnex passenger and freight infrastructure project are linking the area to Western Sydney. And as urban renewal leads a shift from industrial to residential development, some traditional occupiers are moving to areas like Western Sydney, where land is available and Goodman also has a large industrial property portfolio.
The trend is creating space in our South Sydney portfolio for new types of customers, who covet this area's central location and proximity to a large swathe of Sydney's population. It's also an in demand location for third party logistics operators and retailers who are thriving from the boom in e-commerce.
One such customer is Woolworths. Online food and liquor retailing is one of the fastest growing categories within online retail. So when Woolworths decided to open its first dedicated online grocery store, it worked with Goodman to find a suitable space from which to run it.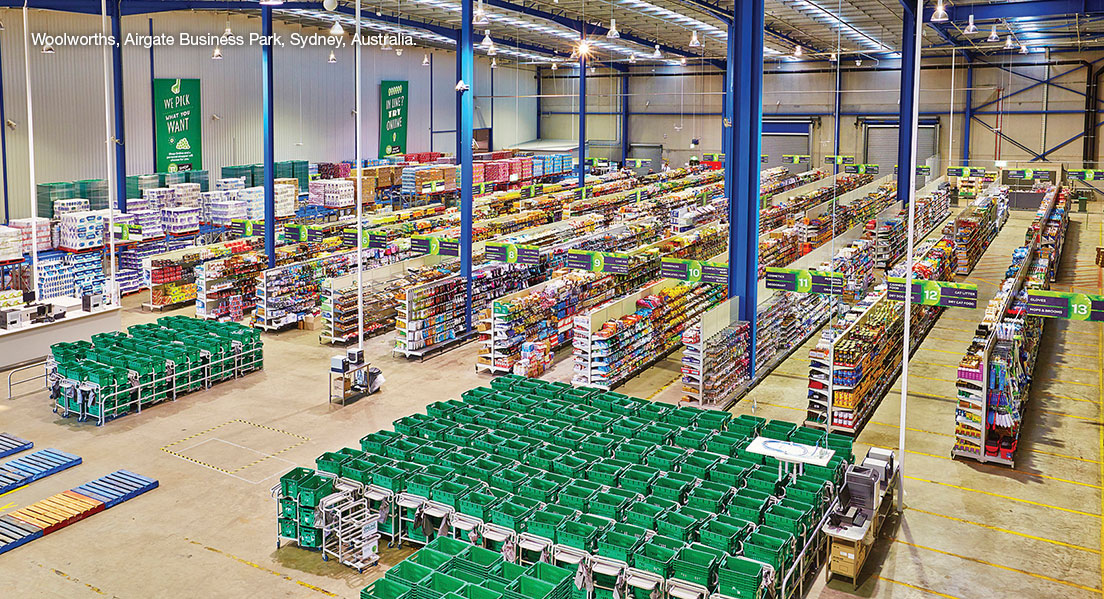 Today, at Goodman's Airgate Business Park in Mascot, Woolworths lease 9,750 sqm of combined warehouse and office space, of which 7,000 sqm is dedicated to the Woolworths online store – a conventional supermarket that is dedicated to servicing the online shopper.
While the store has been modelled on the traditional supermarket, there are key differences. In the online store, trolleys have been designed for easy picking of customer orders, and the shelves are stocked with a product range that is tailored to meet the shopping needs of the online customer – mostly, busy families with small children.
There's a bakery and deli service offering (the store bakes and slices to order), and the store includes a full range of fresh food lines as well as the usual mix of ambient, chilled and frozen foods and household products, with a layout that supports the servicing of its online customers.
With the growing demand for online groceries, the online store provides Woolworths with the flexibility to pick customer orders throughout the day in a dedicated space without causing disruption to its traditional instore shopping experience. The new store has provided Woolworths with the ability to service and reach many thousands of customers living in the store's catchment area across inner Sydney.