PROPERTY DEVELOPMENT
Goodman's development business performed strongly over the last year, benefitting from the demand for prime logistics space around the world. With development commencements of $3.3 billion spread across 92 projects in 16 countries (67% with customer pre-commitments, and 72% pre-sold to Goodman's Partnerships or third parties), and development work in progress of $3.4 billion, Goodman has one of the largest and most geographically diversified development businesses globally.
Looking at the global picture, the demand for prime logistics space reflects the robust domestic consumption seen in major gateway cities, which is being facilitated by the rapid growth in e-commerce. This is leading our customers' increased demand for space which is closer to the end-consumer to reduce their costs and improve delivery times. By focusing on developing in and around gateway cities, Goodman is helping our customers realise greater operating efficiencies and returns from their property solutions.
Keeping a firm eye on the future, we continued to maintain our $10 billion development pipeline, replenishing our land bank in key locations. This is capable of delivering a forecast gross lettable area of 7 million sqm.
Developments in progress
With 81 projects in 14 countries, equating to 2.5 million sqm of new logistics space, we saw active developments underway in all of Goodman's operating regions.
Some of the projects that make up our $3.4 billion of development work in progress include:
in Sydney, a 36,870 sqm distribution centre for multinational consumer goods company, Reckitt Benckiser;
a 30,670 sqm warehouse and office facility in Melbourne for distributor of household brands, Spectrum Brands;
in Auckland, New Zealand, a 5,160 sqm warehouse expansion for food products supplier, Scalzo;
a 106,900 sqm built-to-suit fulfilment centre, comprising two facilities, in Huiyang, Southern China for leading Chinese e-commerce company, JD.com;
at Akamatsudai, Japan, a 50,865 sqm facility for Japanese third party logistics provider, Marubeni  Logistics Corporation;
a 130,435 sqm fulfilment centre at Lahr, Germany for leading European online fashion retail platform, Zalando;
in Brie, France, a 21,685 sqm warehouse for multinational retailer, Carrefour;
a 24,000 sqm facility at Burton-on-Trent, United Kingdom for palletised freight distribution service provider, Palletforce;
at Eastvale in Southern California, United States, a mixed-use business park, with phase 1 comprising two 93,000 sqm logistics facilities subsequently pre-leased to Amazon; and
a 62,600 sqm cross-dock and sort facility at Minas Gerais, Brazil for multinational US retailer, Walmart.
A strategic approach
Goodman continues to focus on development at this point in the property cycle, as it provides us with the best risk-adjusted returns. We are also capitalising on the Group's development capability and expertise, both of which enable us to develop our own brand new, high quality product at a yield on cost of 7.8%. This strategy provides us with a strong competitive advantage compared to having to buy similar assets in the market.
This ability to reinvest significant capital into Goodman's development business is a point of differentiation, with the Group increasingly able to self-fund its development activities.
While our strategy is important to growing future earnings, the big picture is also prudent. Risk has been mitigated via more development being undertaken in Goodman's managed Partnerships, reducing the Group's direct capital commitments. We've also limited speculative development to supply constrained markets, such as the US, Japan and China.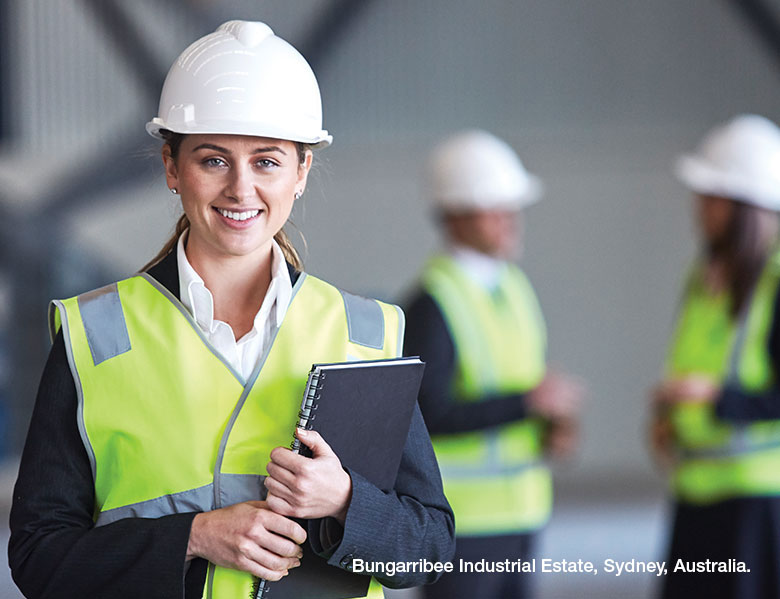 Developments delivered
Over the last year, Goodman delivered $3.2 billion of new space, totalling 2.4 million sqm across 86 projects. Developments delivered during the year include:
in Sydney, two facilities for a combined 58,185 sqm for global logistics services provider, DHL Supply Chain;
an 11,445 sqm warehouse and office development in Melbourne for leading producer of herbs and spices, McCormick Foods;
in Auckland, New Zealand, a 16,000 sqm head office building for dairy company, Fonterra;
an 85,635 sqm distribution centre, comprising two facilities for global sport apparel and equipment retailer, Decathlon, in Wuhan, China;
in Tokyo, Japan, Stage 1 of Goodman Business Park, comprising a 116,525 sqm ramp-up, multi-customer logistics facility;
a 69,130 sqm distribution centre near Augsburg, Germany for automobile manufacturer, BMW Group;
a 39,625 sqm fulfilment centre at St Mard, France for Cdiscount, France's leading e-commerce company;
at Fontana in Southern California, United States, a 59,430 sqm logistics centre, subsequently leased to Walmart; and
in Rio de Janeiro, Brazil, a 145,390 sqm built-to-suit facility for Brazilian retail group, Via Varejo.