THE goodman foundation
The Goodman Foundation has continued to grow over the last year, delivering significant strategic projects to support disadvantaged groups and vulnerable communities in the locations where we operate. The Goodman Foundation is represented across Australia, New Zealand, Greater China, the United Kingdom, France, Belgium, Germany, Poland, Japan and the United States.
Many of our community partners not only benefit from receiving Foundation cash grants, but also through fundraising and volunteer support from Goodman staff. During 2016, the Goodman Foundation supported over 70 charity partners within five distinct pillars of contribution:
Cash grants: Which are provided on a project-by-project basis to ensure tangible outcomes that will deliver a meaningful impact within the community. We work closely with our charitable partners to identify, scope and deliver capital projects that will build the capacity of the organisation or enhance the lives of people less privileged around the world;
In-kind contributions: Include the provision of skilled expertise, office fitouts and the provision of short-term and long-term warehouse and office facilities for our charitable partners;
good+heart: Which is a staff engagement programme where the Goodman team are provided with the opportunity to volunteer with a partnered charity or undertake other activity to support the fundraising efforts of a community partner. Over the 2016 year, more than 50 good+heart opportunities were taken up by close to half of the Goodman Group team around the world. The Goodman Foundation provides support to participants of good+heart by funding the activity costs, making a cash donation to the cause and providing participants with time off work, in addition to sourcing and organising opportunities for their participation throughout the year;
good+deeds: Is our workplace giving programme. The Goodman Foundation will match dollar for dollar the payroll donations made by team members to charities they have nominated. In addition, special purpose good+deeds fundraising is undertaken to support communities in times of crisis such as the devastation caused by natural disasters. In 2016, good+deeds fundraising supported the refugee crisis impacting Syria and the communities in Fiji following the destruction caused by Cyclone Winston; and
Employee fundraising: Is undertaken by the Goodman team for particular causes they feel passionate about, supporting the efforts of the Goodman Foundation and participating in other worthwhile opportunities to make a difference in a meaningful way. Fundraising activities during the year ranged from 'Fruity Fridays' to the Goodman 'Bake Off'.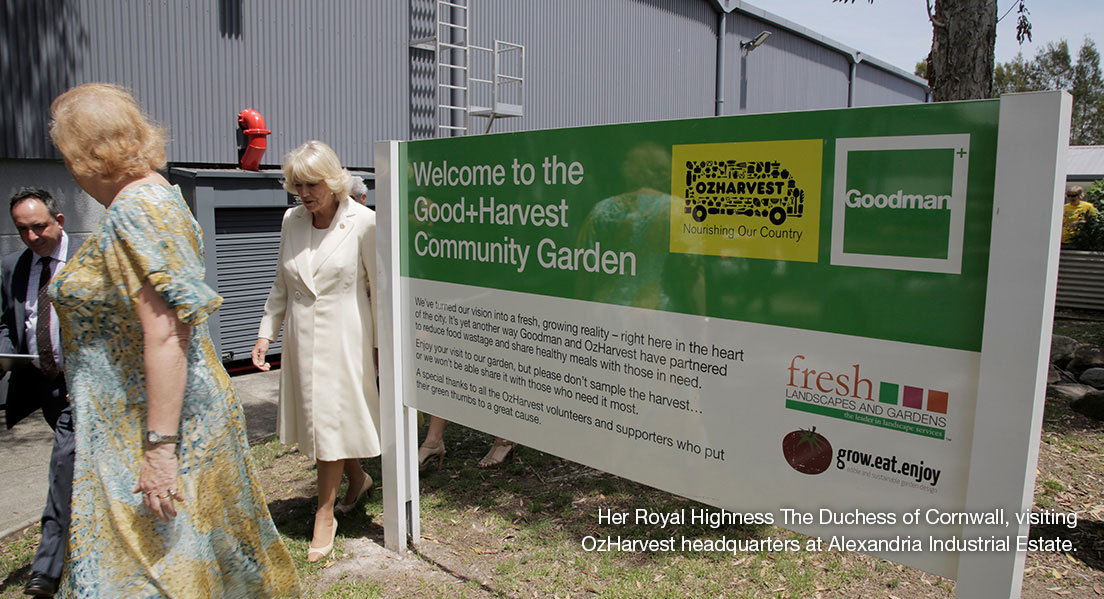 The Goodman Foundation was proud to see one of our founding charitable partners OzHarvest, receive a royal visit by Her Royal Highness The Duchess of Cornwall in November 2015.
The Duchess arrived at the purpose-built Goodman warehouse in Alexandria, South Sydney and was greeted by a contingent from Goodman and OzHarvest, along with many OzHarvest volunteers dressed in their distinct bright yellow.
During the visit, The Duchess, along with Mrs Kerryn Baird, wife of NSW Premier The Hon Mike Baird, was shown the unique Goodman space. This was designed and funded by the Goodman Foundation in 2014, where OzHarvest's purpose to 'Nourish Our Country' comes to life through their food rescue, nutrition education and community engagement programmes.
Her Royal Highness chose to visit OzHarvest to see their innovative work in food rescue and food security, having saved more than 14 million kilograms of food from ending up in landfill and delivering more than 50 million meals to people in need across Australia.
During the visit, The Duchess met with young students from troubled backgrounds, who are changing their lives through OzHarvest's Nourish programme. Her Royal Highness also thanked the more than 100 OzHarvest supporters who were present at the distinguished occasion, for their passion, dedication and commitment to improving the environment and helping those less fortunate in the community.
"We are honoured that The Duchess could experience and witness first-hand how we 'Nourish Our Country' through our food rescue, education and engagement programmes. To take the time on her trip to visit our fantastic warehouse HQ, provided with love by Goodman in Alexandria, and to learn more about what OzHarvest does, what we have achieved to date, and to share it with the world will make an enormous difference to our organisation and to the people who we touch every single day through the act of generosity.", Ronni Kahn, CEO and Founder, OzHarvest, said.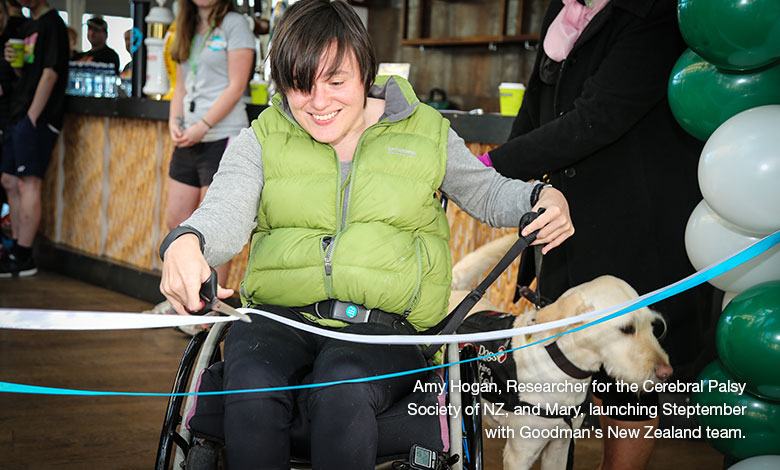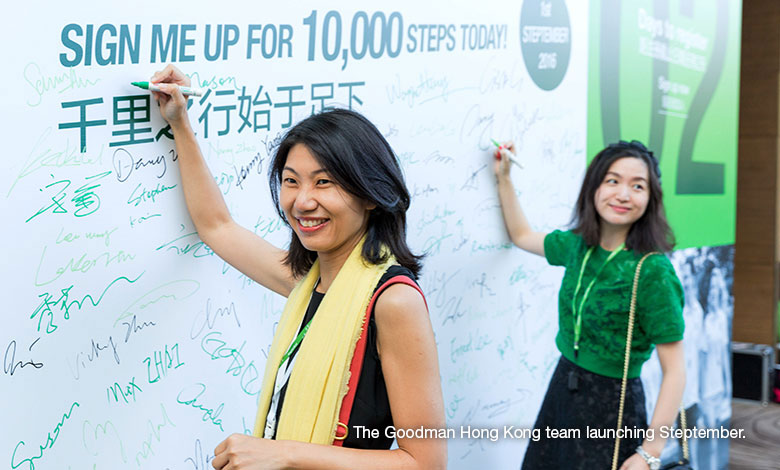 The Goodman Foundation is the exclusive global partner in 2016 for Cerebral Palsy Alliance's major fundraising initiative, Steptember. The new partnership builds on our ongoing global support of the Steptember event since 2014 and we're proudly promoting this through our 'Count Us In' campaign. This is an inclusive and engaging campaign created to encourage our staff and business partners, such as customers, agents and suppliers, to make a meaningful difference and positively impact the lives of people with cerebral palsy and their families.
Steptember is an online health and wellness campaign where teams of four attempt to walk 10,000 steps each day throughout September. The initiative will engage around 90,000 participants across the world and has raised over $9.3 million in Australia and close to $12 million globally since it was launched in 2010. Fundraising targets for 2016 have been set at A$5 million and Goodman has mobilised more than half of its global workforce and influenced many of our associated business partners to join us in the pursuit of this leading health and wellness charity event.
In addition, the Goodman Foundation provided funding to Cerebral Palsy Alliance in 2016 to renovate their Ryde facility including the installation of a gymnasium to support the health and well-being services offered to their clients.
Rob White, CEO, Cerebral Palsy Alliance said, "I would like to personally recognise and thank Goodman for their long standing support and contribution to Cerebral Palsy Alliance and Steptember. Our partnership with Goodman began some 13 years ago, and I am delighted that Goodman has extended their support this year as exclusive global partner for Steptember 2016. Over the years, Goodman has been instrumental in helping us raise vital funds to support our mission to build better futures for individuals living with disability."